"Riding a horse is not a gentle hobby, to be picked up and laid down like a game of Solitaire. It is a grand passion."

--Ralph Waldo Emerson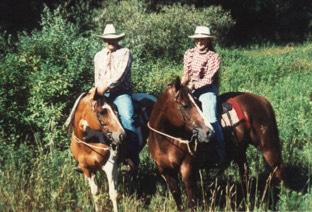 We are Jim and Dolly Little. We own and operate The Crosspatch. We are a family who operates a real working horse ranch with an emphasis on helping people fulfill dreams. We have been in the horse business for over forty years.

We are now taking reservations for the upcoming Crosspatch Chuckwagon Suppers and other key events, take a look at our Calender of Events.
With the spring season upon us, we are thrilled to offer several Trailride packages detailed in our Guided Trail Rides page, what a great way to enjoy the beauty of this season or for a special occasion. Please call us for more information and reserve a spot.

The Crosspatch is nestled in the foothills of the Allegheny Mountains and we provide Guided Trail Rides, Horsemanship Camp, Wagon and Carriage Rides and a wide variety of horse related services.
We are located in Western New York, 50 miles south of Buffalo and 8 miles from Allegheny State Park. We are 6 miles from Ellicottville and the ski resorts and 6 miles from Salamanca.